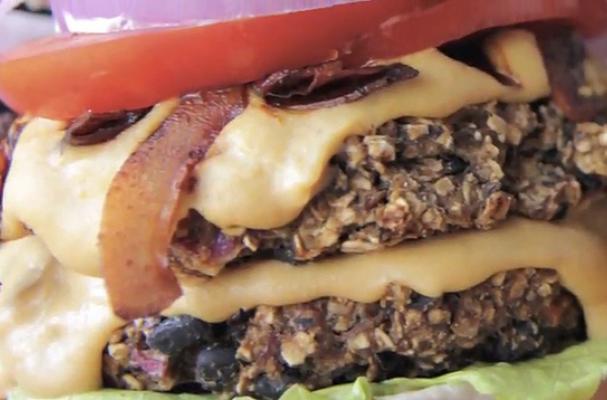 Craving the smoky flavor of bacon and the creamy sharpness of Cheddar cheese, but you're living without meat? Watch The Sweetest Vegan as she whips up this delicious and healthy vegan bacon double cheeseburger. You'll be amazed at how she makes the bacon! Find the recipe and instructions in the About section here (transcription provided below).
Hey my sweet V's, it's the Sweetest Vegan here. Today on the show we are making your fast food dreams come true with a double bacon cheese burger. Here we go.
We're going to start by making the bacon. Whisk together liquid smoke, soya sauce, maple syrup, water, garlic powder, paprika and black pepper. Allow your coconut to marinate for about five minutes then lay it out on a baking sheet in a single layer. Place it in an oven that has been preheated to 300ºF, go back every five minutes and move them around until they become the crispness and the darkness that you desire. Once our vegan bacon is done, we're going to move on to our black bean burgers. You're going to take one can of black beans, drain off all the liquids and then place the beans into a large bowl along with cooked sweet potato, finely chopped onions, garlic powder, black pepper, a flax seed mixture of ground flax seed and water, salt and Sriracha sauce. Give that a good squish with the potato masher. After it has reached a mushy consistency you're going to add in your oatmeal and just shape your burgers with your hands, put them on the baking sheet that has been lightly greased, then bake them at 375ºF for 15 minutes on both sides. While those are in the oven we can go ahead and make our vegan cheddar cheese. To a blender you want to add in cannellini beans, nutritional yeast flakes, cooked sweet potato, soya sauce, garlic powder, black pepper, olive oil, tahini, agave nectar and almond milk.
My initial thought was to go with the whole wheat bun but I found these kinds of rolls and they were vegan so that's what we're using today. I'm going to layer on some vegan mayonnaise, I'm now going to layer on our lettuce, one of our black bean burger patties, some of our vegan cheese, another patty, some more vegan cheese, then here comes the mother load, our vegan bacon, then put on your tomatoes, rare onions, and that is it. Let's give it a taste. That is so good. You all just did not know, I've been dreaming of this burger for days now and it is everything and more. I hope you try this recipe, if you don't know me, I'm the Sweetest Vegan and I'll be here next week I guess and I'll see you guys. Oh, excuse me. Bye.
I've had that on my nose, did you all see that? I hope not.